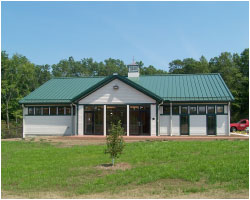 Provost & Rovero, Inc. provided complete design-build services in conjunction with Engineered Construction International, Inc. for the new Connecticut Humane Society animal shelter in Waterford, Connecticut. The new facility was designed in harmony with the property's "green campus" master plan. Services included:
Surveying and Base Mapping.

Structural Engineering.

Mechanical Engineering.

Architectural Engineering.

Civil Engineering and Site Design.

Regulatory Permitting.